I became a dentist because I have always had compassion to help others. Dentistry is a wonderful profession because I change people's overall health while also giving them confidence.
It is most important to me that my patients feel they can trust that I have recommended what is in their best interest. It makes me the most proud when a patient leaves feeling like their life is going to improve because the health of their mouth and beautiful smile reflect how beautiful they are inside. I want everyone to feel good about themselves.
Education and Continuing Education
I regularly attend the Florida National Dental Convention and the Hinman Dental Meeting to stay up to date with the newest, most innovative dental treatments and procedures. I am a member of the Spear Institute and Dawson Acadamy. Learning the most advanced techniques helps me to provide my patients with the best possible care, and they deserve nothing less.
Professional Affiliations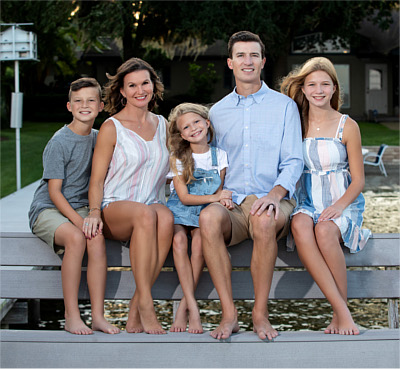 Outside the Office
Originally from Jacksonville, I now reside in Ocala with my husband Brian, who is a native of this area. His love for Ocala is the reason we moved here and chose to raise our children here. We have three children: Reese, Caleb, and Piper. We also have a wonderful family dog named Jessie and cat Nicoli.
When I am not working, I love spending time with my family, whether we're at Lake Weir or Jacksonville Beach or just relaxing at home. Like any good University of Florida alum, we are Gator fans and can be found at many Gator sporting events.
Being involved in the community is part of why I became a dentist. I enjoy attending First United Methodist Church. I love to volunteer at Eighth Street Elementary School. I am a proud supporter of Marion County Public Education Foundation, Kimberly Center and Interfaith of Marion County. Giving back is truly a gift!